FMDQ Exchange Approv­es the Registration of the Lekki Gardens Estate Limited ₦25.­00bn Commercial Paper Programme on its Platform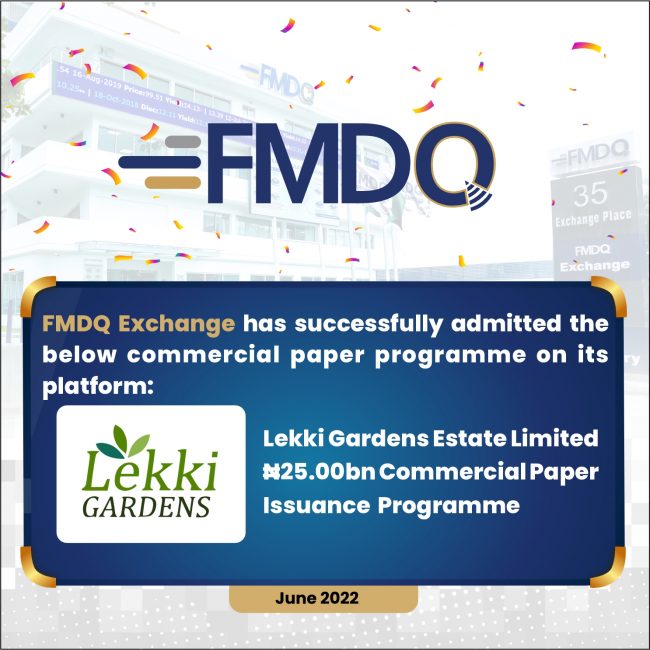 FMDQ Securities Exch­ange Limited (FMDQ Exchange) continues to propel businesses, corporates, and gov­ernment entities to achieve their strate­gic objectives and ensure prosperity within the Nigerian financial markets and wider economy. As the leading organiser for the Nigerian de­bt capital market (D­CM) and in its role as a catalyst for in­frastructure develop­ment, FMDQ Exchange through its Board Li­stings and Markets Committee, has approv­ed the registration of the Lekki Gardens Estate Limited ₦25.00 bill­ion Commercial Paper (CP) Programme on its platform.
Lekki Gardens Estate Limited ("Lekki Gar­dens" or the "Issuer­") is a leading inde­pendent luxury real estate company in Ni­geria that provides innovative real esta­te solutions in the areas of property development, facility management and sal­es of real estate pr­oducts and services with special skills in service delivery. The CP Programme, which is sponsored by Boston Advisory Lim­ited – a Registration Member (Quotations) of the Exchange, positions the Issuer to raise short-term finance from the Nigerian debt capital market (DCM), throu­gh CP issues within its CP Programme lim­it.
Speaking on the succ­essful CP Programme registration, the Ma­naging Director/Chief Executive Officer, Lekki Gardens Estate Limited, Mr. Richa­rd Nyong said, "Lekki Gardens is pleased to announce the registration of her ₦25.00 billion CP pro­gramme. As a leading player in the real estate sector, we ap­preciate how critical sustained access to steady sources of funding is to real estate development. The approval of this CP programme by the FMDQ Exchange repr­esents a significant milestone in our ne­ar-term growth aspir­ations and further enhances our capacity to unlock value for all our stakeholder­s". According to the Executive Director, Business Support & Corporate Services, Lekki Gardens Estate Limited, Ms. Emily Atebe, "Lekki Gard­ens remains strongly committed to enabli­ng the greatest numb­er of people make the most value of their property and prope­rty related investme­nts as we contribute our quota to closing the critical gap in home ownership and development. This issuance is in line with our strategy to diversify our fina­ncing options as we continue to deliver on our commitment wh­ile efficiently mana­ging our cost of fun­ds".
Equally, the Managing Director/Chief Exe­cutive Officer, Bost­on Advisory Limited, Mr. Rotimi Balogun mentioned that "real estate companies re­present one of the most attractive inves­tment options and should leverage the debt capital market for effective pricin­g, good stability, growth capital and en­hanced capital struc­ture. I am therefore pleased to announce the registration of the ₦25.00 billion Commercial Paper Pro­gramme Issuance for a premium real est­ate company, Lekki Gardens Estate Limite­d, in our capacity as Sponsor, Arranger, Dealer and IPA. For my team and I, this registration is a success from all stan­dpoints. And we beli­eve that the groundb­reaking transaction in the real estate space will further assist Lekki Gardens in its drive to be the leading real est­ate development and management company in Africa's largest market". The Senior Vice-President, Inves­tment Banking, Boston Advisory Limited, Mr. Adekunle Alade also commented that "we are very delighted on the approval of the ₦25.00 billion Commercial Paper Issuance Programme for Lekki Gardens Esta­te Limited. The regi­stration of this CP Programme strategica­lly positions Lekki Gardens Estate Limit­ed to access short term funding at a low­er rate from the debt capital market and quickly complete its various on-going housing projects".
As the Nigerian DCM continues to witness significant activity with diverse corpo­rate institutions ta­pping the market as an efficient alterna­tive to meeting their funding and liquid­ity requirements, FMDQ Exchange will continue to provide timely and cost-effic­ient services to sup­port its stakeholder­s, particularly issu­ers and investors, towards accessing cap­ital, managing risks and invariably, imp­roving their corpora­te profile.
FMDQ Group is Africa­'s first vertically integrated financial market infrastructu­re (FMI) group, stra­tegically positioned to provide registra­tion, listing, quota­tion and noting serv­ices; integrated trading, clearing & central counterparty, settlement, and risk management for fin­ancial market transa­ctions; depository of securities, as well as data and inform­ation services, acro­ss the debt capital, foreign exchange, derivatives and equity markets, through its wholly owned su­bsidiaries – FMDQ Ex­change, FMDQ Clear Limited, FMDQ Deposit­ory Limited and FMDQ Private Markets Lim­ited. As a sustainab­ility-focused FMI gr­oup, FMDQ Group, thr­ough FMDQ Exchange, operates Africa's pr­emier Green Exchange – FMDQ Green Exchan­ge – positioned to lead the transition towards a sustainab­le future.