SON, MAN, must collaborate to maximize potentials of AfCFTA – DG SON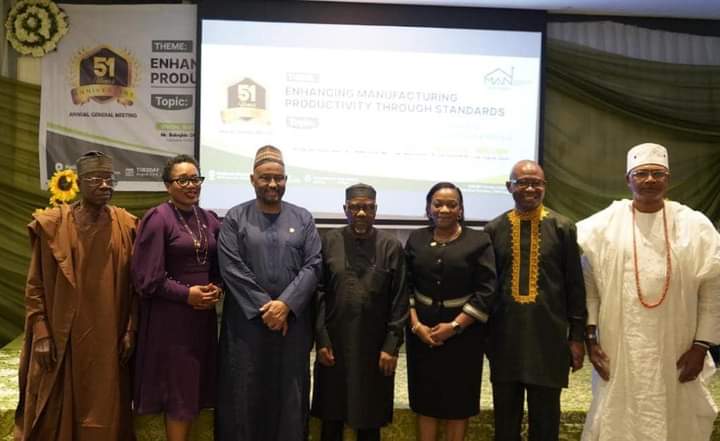 By Kayode Ogunwale
Mallam Farouk Salim,Director General of the Standards Organisation of Nigeria(SON) has called for stronger collaboration between the Manufacturers Association of Nigeria(MAN) and SON in order to boost industrialization to enable Nigeria maximize the potentials of the African Continental Free Trade Agreement.
Salim, who spoke at the 51st Annual General Meeting (AGM) of the Manufacturers Association of Nigeria (MAN) held at Radisson Blu hotel, Lagos, enjoined all manufacturers to adhere strictly to standards to ensure that the Nigerian market is poised to gain from the investments and trade opportunities that the AfCFTA agreement will inevitably bring.
In a paper presentation titled _"Standards: An Imperative for Competitive Manufacturing in a Continental and Global Market",_
the SON helmsman emphasized that the fight against substandard products is an ongoing battle which requires, every sector of the economy to be involved for orderliness in all manufacturing processes,in line with international best practices which will result in the growth of the country because "where there are no standards, there will be chaos, which creates war,banditry and a host of other unpleasant outcomes".
The Executive Governor, Lagos State, Mr. Babajide Sanwo – Olu represented by the Permanent Secretary, Ministry of Commerce, Industry and Cooperative, Mrs. Adetutu Oluremi Ososanya encouraged stakeholders at the event to embrace standardisation and quality assurance in order to ensure acceptability, profitability thereby improving customer confidence in Made in Nigeria products.
Sanwo-Olu, promised that his government will continue to make policies that will boost commercial activities in the state.
The National President, Manufacturers Association of Nigeria Engr. Mansur Ahmed,in his address, said his association remains fully committed to ensuring synergy in it's working relationship with SON.
He noted that standards are the heart of productivity and sensibility, because it minimizes cost,optimizes productivity and profitability.
He implored SON not to relent in its efforts of upholding standardisation,assuring the organisation of MAN's continuous cooperation in the economic diversification agenda of the government.